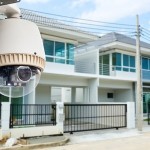 Security cameras play a very critical role in both residential and industrial use. They are used as a source of the much needed evidence when a crime is committed. They are also used as a deterrence in order to prevent the occurrence of a crime. It is therefore worth investing in both the security shipment and the network cable installation therein.
A professional security camera installation entails setting up the surveillance system and making sure that coax cable installation is done right and that its working. It is important to assess if the cameras are adjusted, aimed, and focused properly. It is also good to ensure that the security infrastructure is safe from vandalism.
Network cable installation for home security camera needs requires that you at least meet the minimum requirements of an effective surveillance. The minimum standards for such are one to three cameras, DVR (digital video recorder), power cords, and appropriate wiring (siamese and BNC cables). The purchase of a surveillance set depends on the following categories: wired or wireless, indoor or outdoor, motion sensing, and remote viewing.
Security camera installation for organizations is more complex and involves increased use of major CCTV-digital video brands. It can be provided under the following categories: surveillance camera systems, digital video recorders, wireless & outdoor surveillance systems, and security & surveillance system monitors.
Security Camera Installation